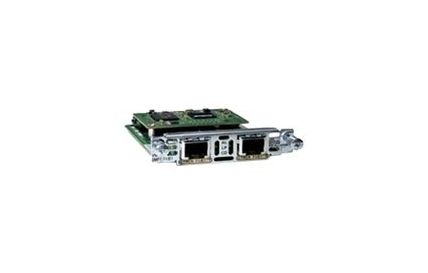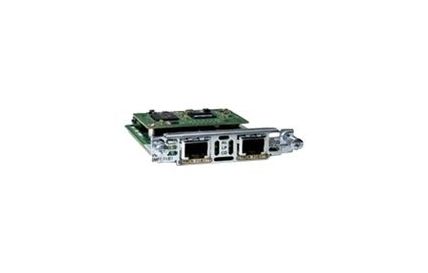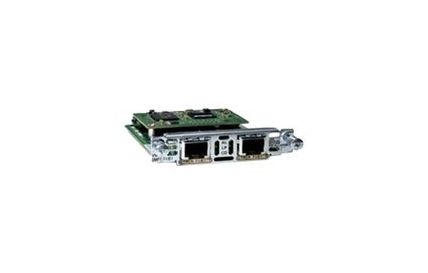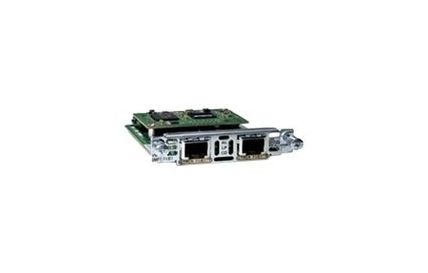 Notes:
Items purchased through Cisco Outlet are refurbished. Conditions may vary from the visual depictions on the site.
VWIC2-2MFTT1/E1-RF
2pt 2nd GenMultiTrunkVoice/WAN Int.Card-T1/E1 REMANUFACTURED
The Cisco Second-generation T1/E1 Multiflex Trunk Voice/WAN Interface (MFT VWIC2) supports data and voice applications on the Cisco 1721 (data only), 1751 and 1760 Modular Access Routers, the Cisco 2600XM Multiservice Router, the Cisco 2691 Multiservice Platform, the Cisco 3662 Telco Versatile DCN Access Platform, the Cisco 3725 and 3745 Multiservice Routers, and the Cisco 1841 (data only), 2801, 2811, 2821, 2851, 3825, and 3845 Integrated Services Routers. The Cisco MFT VWIC2 combines WAN-interface-card (WIC) and voice-interface-card (VIC) functions to provide unparalleled flexibility, versatility, and investment protection through its many uses. Customers who choose to integrate data and voice in multiple steps preserve their investment in a T1/E1 WAN interface because the Cisco MFT VWIC2 cards can be reused in packet voice applications.

Inventory quantities are subject to availability and are not guaranteed until the order is placed.
| | |
| --- | --- |
| Data Transfer Rate | 2.048 Mbps |
| Designed For | Cisco 17XX, 1841, 1841 2-pair, 1841 4-pair, 1841 T1, 1921 4-pair, 1921 ADSL2+, 19XX, 26XX, 2811 2-pair, 28XX, 28XX 4-pair, 28XX V3PN, 29XX, 37XX, 38XX, 38XX V3PN, 39XX |
| Device Type | Expansion module |
| Dimensions (WxDxH) | 3.1 in x 4.8 in x 0.8 in |
| Form Factor | Plug-in module |
| Line Rate | T-1/E-1 |
| Ports Qty | 2 ports |